Our new garments will be published soon.
Stay tuned!









OC1
Garment 1
This garment is a hooded sweatshirt sewn out of charmeuse. The fabric is thin and lightweight, making the wearable adaptive and flexible.
The fabric itself is constructed through a weave technique that makes it highly reflective on one side and dull on the other. This dual quality of opacity and relative translucence is useful for experimenting with light—a crucial element in the efficacy of most face detection systems. The flexibility of the charmeuse created opportunities for the integration of small LEDs into the rim of the hood. We wired the string of lights together, connected them to a lithium polymer battery, and sewed the wire into into the garment. The lights around the brim are amplified by the reflective properties of the fabric, yielding an effect that underexposes the face. This mechanism mobilizes light to conceal the face and overwhelm the aperture of the camera.
We imagine this hooded sweatshirt as an everyday garment that is most optimally used at night or in areas of low light.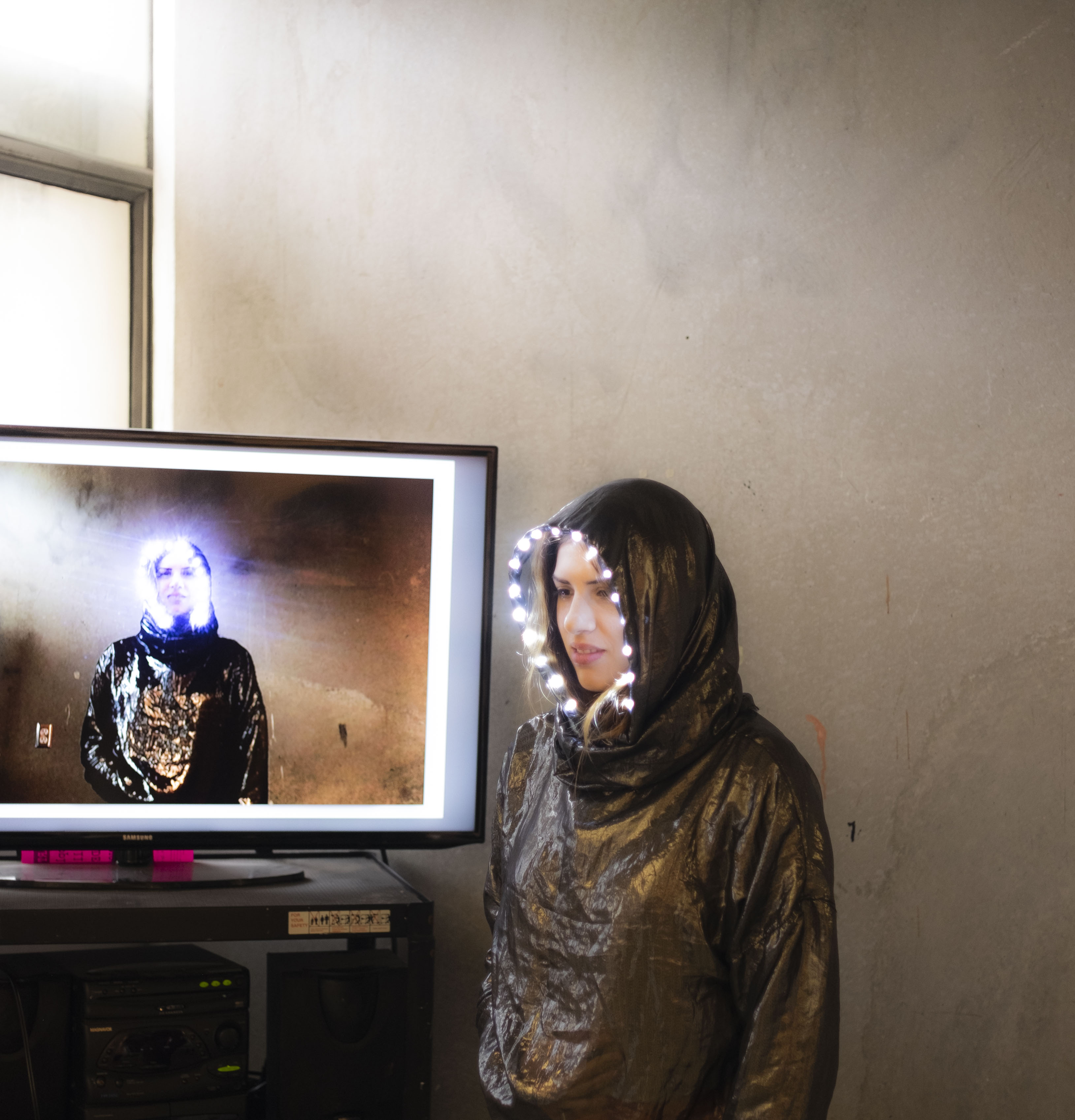 OC2
Garment 2
This garment is a dress sewn out of muslin cloth and a sheer organza. The dress is layered, with the muslin as the inner lining and the organza as the outer.
The muslin cloth is sturdy, coarse, and light in color, which made it an effective canvas for the transfer of a laser print pattern onto the fabric. Using the transfer process outlined in the Assets tab, we transferred a pixelated face pattern onto the fabric. The pattern features a series of abstracted faces ranging from small to larger sizes. The utility of this pattern is to spam algorithmic facial detection systems with a multiplicity of nearby and readable faces. This reduces the confidence score of the detection system by overwhelming it with a surplus of facial data, ultimately making the wearer's face less susceptible to capture.